Everyone loves to explore the world & traveling around. Imagine if you start earning a handsome amount, probably the very first wish that you want to fulfill will be to explore other countries.
But here comes the problem!
If you leave your workspace or full-time job, you won't be able to make money while traveling. You won't be able to meet your expenses & you always need extra money to travel along.
Anyways, I will tell you 13 proven ways on how to make money while traveling step by step.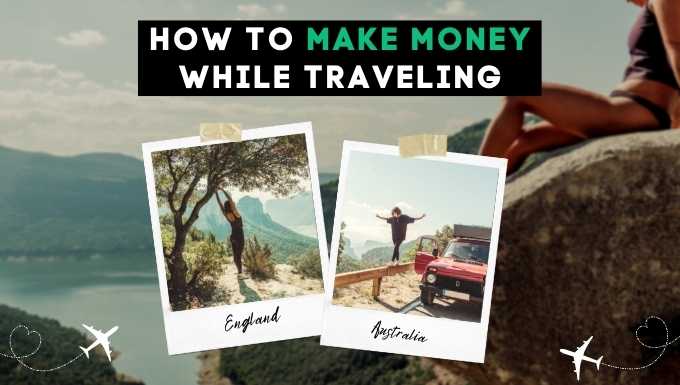 How To Make Money While Traveling
When we talk about making money while traveling, we always mean to build passive income streams. Because it requires very little or less effort & we can easily manage multiple income streams.
Although there are a lot of ways in making money, but we have selected the following ways
Travel Vlogger
Blogging
Sponsorship & Affiliate commission
Sell videos & images
Earn from apps
Build Passive Income freelancing
Own online business
Renting Car business
Renting Home business
Become Flight Attendant
Trading Forex & Stock markets
Sell your Ebooks
Arrange Seminars
Apart from those ways, you will also be going to know how you can start each of those money-making models.
All these models are location independent, which means you can manage them from anywhere in the world. But an internet connection is required wherever you go.
1. Travel Vlogger
This is one of the best & easy way of making money while traveling. As you travel along & explore different cities, countries, & places, you capture each amazing moment into your camera along with the documentary.
Later on, you edit those videos & can upload them to YouTube or Facebook & monetize them to earn money.
The engagement rate of these kinds of videos is very good & CTR is always high. You can watch Dale Philip who enjoys & make money while traveling.
His earning status from YouTube is attached and provided by Social Blade
Did you see that?
He is making an average of $12K+ every month from YouTube.
He also posted the same videos on Facebook & you can assume the amount to be the same paid by Facebook.
So in total Dale Philip makes an average of $24K per month & he is making amazing money while traveling & creating content.
What do you need to get started?
Well, you can start with any mobile camera to record travel videos or invest in gadgets like cameras, drones, mics & tripod stands.
If you can edit the videos yourself, it will save you extra money or you can hire someone to do that for you while you are traveling.
2. Blogging
Making money online through blogging is not as quick as vlogging. But once you succeed in the blogging business, you can always generate multiple passive income sources through it. It can be managed from anywhere & you earn money while traveling.
Nomadic Matt travels a lot & runs his blog getting around 1.3M visitors each month & generating a huge amount of money from his blog. According to Siteprice, his website is worth $300K.
Now you can enjoy & make money while traveling.
But how to set up a blogging business to earn money?
Read the guide below.
Steps To Setup Blogging Business
The very first thing you need to start blogging is to purchase the domain & hosting. Once you get that, you can set up your website using WordPress or any page builder tool.
Website building may require you to learn all the procedures. But it's not that difficult as most of the websites are created using just drag & drop features like Elementor page builder. But you can always hire someone else if it seems difficult for you and that will cost you extra money.
If you want to hire someone else, go with UpWork or Fiverr, & find someone who is an expert in this field.
3. Sponsorship & Affiliate Commission
Now that we have covered YouTube & Blogging. If you get started with any one of the above methods, this setup will definitely be going to boost your earnings 5x times.
Let's take an example of a travel blog or vlog & assume you reached a certain good amount of following & subscribers on these mediums. Now the brands will reach you & give you extra cash to review their products.
Case Study of Drew Binsky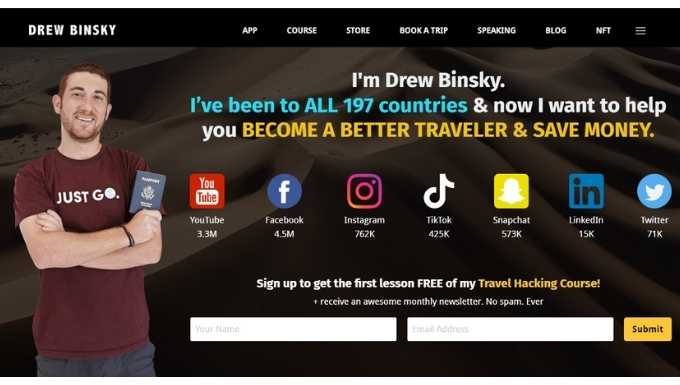 Drew Binsky has traveled to 197 countries & is following all the best possible ways to earn passive income. Meanwhile, he travels to other countries, he is still making money while traveling.
Let's take the example of his video, where he got a sponsorship.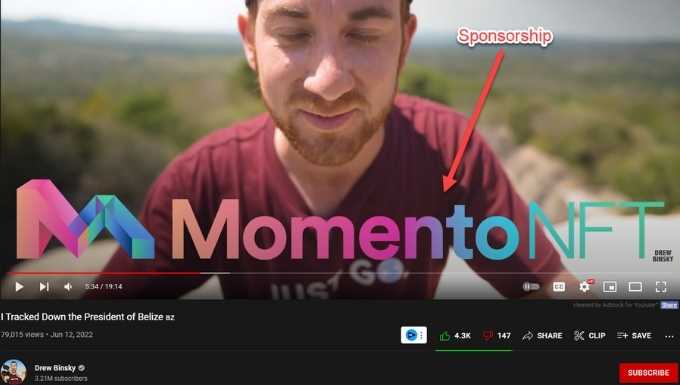 See that…
Having millions of subscribers & views. He got a sponsorship.
This is just not the end. Drew Binsky also runs a blog, a merchandise store, selling online courses, runs an app & a lot more.
No need to worry, you can achieve that too & I have covered everything in this blog.
How to get sponsorship & affiliate commission
Sometimes you get the sponsorship from the brand when they reach out personally through email. But very often you have to reach out to the brands through their emails.
Similarly, these brands have affiliate programs which means when you promote or review their product & advice your followers to purchase through your link, you will earn money each time someone purchases their products.
So you are making money while enjoying traveling around the countries.
Are you ready to start your journey like that?
4. Sell Videos & Images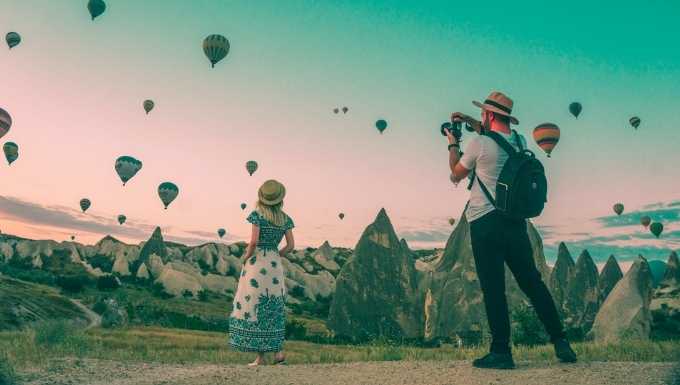 If you have already started with the first step, then selling your footage & images is another way to make money.
As you are doing travel vlogging & recording videos then you can easily sell some of the exclusive images & videos that can cost an average of hundred dollars.
All the steps that I have mentioned are linked with each other. This means if you start with the first step, you will be able to make money out of all these steps mentioned in this blog.
But all these are not quick money schemes & will require quality time.
How to sell videos & images
There are tons of websites where you can sell your videos & images. But I will give you the top picks.
Note: Make sure whatever videos or images you sell, shouldn't be available publicly to your followers. It should be exclusively available on the selling platforms only.
Gettyimages have been number 1 on this list. You can earn up to $500 or more per video download.
Similarly, you can earn from the images in a range of $50-$500 or more per download. When I say more, that means if someone purchases "Market Freeze" licensing, he will pay more.
You can join the Getty images here
Shutterstock also gives an opportunity to sell images & videos. It is also a well-known brand & has millions of users around the world. That means you can influence the audience with your amazing work.
Shutterstock pays around 40% to their contributors who reached Level 6, whereas they have the following pricing structure for their contributors.
To calculate your earnings, it is best to check the pricing for the customers, who are going to use those images & videos.
The pricing plan is different for both the images & videos.
You can join as a contributor with Shutterstock here
As compared to Shutterstock, iStock seems to give more money. That means you will get paid well & will be able to make money while on the road.
Covering that, there are other websites that allow you to make money while traveling & clicking all the beauty of the world into your camera.
You can explore other ways to make money on the internet & can turn this passion into your dream job.
5. Earn from apps
If you followed all the above guidelines, I am assuming you are earning a handsome amount now to bear your travel expenses & fulfill your daily needs. You will also save money to invest in other online business ideas.
It is also one of the best ways to make money while traveling.
What kind of app should you make to earn money?
You can make any kind of app to generate passive income. But if you have already built your followers on your blog or social media, you can engage them on your app too.
Let's take the example of Drew Binsky again.
See that.
He made an app where he allows his followers to connect with like-minded people who also love traveling.
This app itself generates ads revenue, sponsorship revenue & affiliate revenue.
Now you can make a similar kind of app or if you have an idea to create something different kind of app, you can share that idea with your developer.
How can you create an app?
After making some money, you are now ready to invest it. If you are aware of how to create an app, you are good to go. But if you don't know all this stuff, you can always hire a freelancer who can set up & manage all this stuff for you.
Use UpWork & Fiverr to find expert freelancers. Keep in mind that you want quality, so don't go with cheap services.
6. Build Passive Income Freelancing
Have you ever heard of travel jobs?
Well, you can find these kinds of travel jobs in the freelance marketplace. This can be a great way to make money for many individuals who love traveling. In these kinds of jobs, a company or an individual will ask you to move to a specific country or place & record or capture the view & then hand it to them.
An example job post posted is here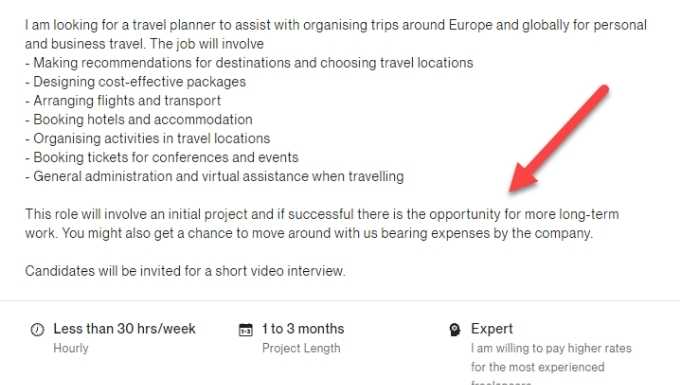 These are all location-independent jobs but for me, it is not a passive income job.
Guess the reason…!
It's because you are working for someone else & will make money only when you work. So how can you turn it into a passive income stream?
Passive Freelancing & Making Money While Traveling
Passive freelancing or income stream is the one that requires only a few hours or efforts & still enables you to earn a good amount of money.
The majority of people don't know about passive freelancing, but in this model, you don't have to work much hard, instead, you engage other people to complete all these tasks. I call it outsourcing.
Outsourcing Method:
There are tons of freelance jobs like writing blog posts, virtual assistant, online surveys, video editing, & much more. You apply to those jobs on your behalf & hire some other freelancer to do the required task. You can hire those freelancers on a 1-1 project basis or on monthly payments whichever saves more money.
Here your task is to win the project, have it done by someone else, submit it to your client & get paid. Simple is that.
Since it is a location-independent job so you can also do the task yourself too & can earn money online while you keep enjoying traveling.
7. Own online business
Why do I focus on online business only to make money while traveling?
Because it can be managed from anywhere in the world, whereas you can't manage other physical businesses.
Now that you already know the different ways to make money discussed above & you know the potential of online & passive income streams. Here is a further guide.
How to build & start an online business:
When it comes to online business then there comes a lot of opportunities.
Remember that travel blogging & vlogging itself is a business. Along with that, you can start your own eCommerce store where you can sell your merchandise or other products.
Drew Brinsky, who has millions of subscribers runs a merchandise store. That means he is making money while he is on the road.
Did you get an idea now?
This is just a start. You can start selling through your own website or even join Amazon or Walmart. But it is always worth starting with your own website.
However, if you start proceeding to sell with Amazon, its FBA model only requires inventory management. That means shipping & packing of the product will be handled by Amazon & you will enjoy the pure profit.
8. Renting Car Business
You move around the world but left your car at home for no one's use. Why not make money while traveling by renting major items from your house, especially the car?
That sounds new to you. Right?
Renting car business items is a traditional way to make money. But how much can you make with this?
According to Turo, if you rent 5 cars you can easily make an average of $52000 annual income that makes an average of $4000.
Steps to Rent a car with maximum profit
Renting a car in a way to get maximum profit was very challenging in the 2000s. But it's not an issue anymore in the current era.
There are thousands of websites where you can list your car for renting purposes. You can compare all the websites & can find out the best companies with the best competitive price so that you can put the competitive price too.
Here is my best recommendation.

Turo is one the best & largest car-sharing marketplace. Where both the buyers & sellers trade with each other.
Anyone around the US, UK, or Canada can book your car at the rate you have mentioned. The car is issued under liability insurance worth $750,000.
Hertz is also one of the known brands for rental car business & has 11M+ worldwide gold reward members.
Similarly, you can find many other companies where you can list your car & can earn extra cash.
9. Renting Home Business
Now we know there are a lot of ways to make money on the road & renting a home is one of the best businesses to make money.
As you travel along, your home will be of no use to anyone else. You can easily rent that out & can generate quick income month after month as long as it's been rented.
This will be just a start. Imagine you buy properties or homes in different countries where you travel, you can easily rent that out when you move from that country. That way you will be getting rich by owning those properties in different countries & renting that out also generates a stable income stream.
How to rent or buy home
Airbnb is the leading brand for renting & buying homes. You can list your home there with your own pricing. The best thing about Airbnb is that it gives the Host Liability Insurance worth $1M. That means if someone damages your property, you will be secured.
Apart from that, you can also use Vrbo, Agoda, Plum Guide, & the list goes on.
Your property is engaged now & you will enjoy your travels while the money comes each month while traveling or on the road.
10. Become Flight Attendant
Flight Attendant can be a dream job for many individuals who love to travel & want to make money while traveling.
Erika Bisbocci is a flight attendant for a major U.S airline. She travels around the world & gets paid for it. It sounds difficult to manage both, but she makes it possible.
How did she become the Flight Attendant?
She had never thought of becoming a flight attendant. But soon she started to love life around the world & realized that she needs a job to travel and get paid for it. She chose to become a flight attendant.
Now that she got a job & makes money to travel at a very low cost.
11. Trading Forex & Stock Markets
Foreign trading or Forex trading is one of the best to generate passive income streams. The best part of Forex Trading is that you don't have to spend much time to make money & it can be operated from anywhere in the world.
You can trade yourself or can invest your money with a person who knows how to trade forex. I will share both methods.
How to trade Forex?
Well, you can't start trading forex without learning it or it will be a great loss for you. You must have to invest your time and money to learn all the procedures.
You can learn to trade forex from Youtube (which is free of cost) but you might not be able to learn it completely from there. Therefore, I must recommend finding your mentor or learning it from paid coaching services like Udemy or Skillshare.
How to hire someone for Forex?
Learning forex may consume a lot of your time & being a traveler I believe it won't be possible for you to invest a lot of your time in learning all this stuff.
Therefore, there are a lot of secured marketplaces where you just put your money, set the loss ratio & it is good to go to make money.
Here are our top picks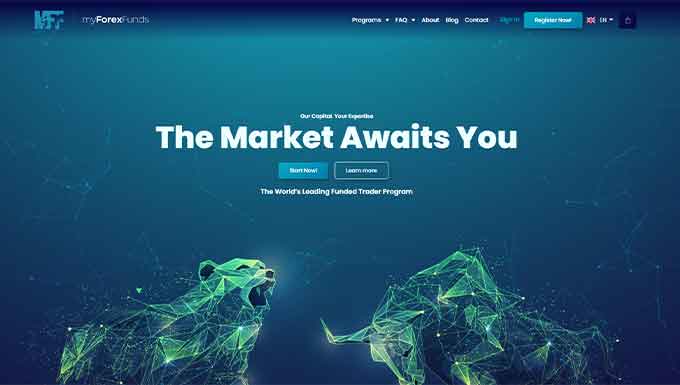 My Forex Funds is the trusted marketplace where you can invest your money & an expert will trade on your money.
He will trade from your money & both of you make commissions.
This can also be the best opportunity if you don't have enough funds or investments to start trading. You can even buy their program as per your budget or investment & start earning a good amount of money. If you start yourself, make sure you learn it first.
Did you see that?
By investing or giving a one-time registration fee of $99, you will be able to get an account worth $2000. Now you got $2000 & are ready to make money out of it.
FTMO also works the same way as the above one. But you might notice a difference in the registration fee. Although it really doesn't matter, as long as both the platforms are secured & trusted.
You can check their Trustpilot reviews before proceeding with that as both are good ways to make money while traveling.
Furthermore, you can check out other similar websites over the internet.
Why is Forex added as a way to make money while traveling?
There can be many reasons to explain that question. But keep in mind while traveling the world, you need work that can be operated over the internet & can be handled from anywhere.
Here are further reasons;
You are not working for anyone here.
You can manage from anywhere on the road.
You can trade from their mobile apps.
It works 24/7 on business working days.
Helps you to generate money quickly.
Hence it can't be a seasonal job, but can be a good choice among other travel jobs.
12. Sell your Ebooks
The reason I put this in the second last place is that you can only sell your ebooks once you become a successful travel blogger or vlogger or may be successful in any one of the mentioned above strategies.
Selling ebooks requires one-time hard work, which is when you write that book.
How to start selling your ebook?
Emily Krause is one the well-known person among other travel bloggers who write on travel blogging & also loves to explore the world. Being a mother of 4 children she proves that earning money as a traveler is easy.
She started his journey as a freelance worker & learned a lot during her traveling journey. She is also selling her ebook which has been read by many people.
Now you can start writing your own book based on your travel experience or maybe you can teach other people how to make money while traveling.
13. Arrange Seminars
After covering all the topics above, I believe you are now in a condition where you have a lot of followers or subscribers & definitely, you have some skills or travel experience that you can share with your audience.
Based on that you can arrange seminars teaching them about your experience or different ways to make money on the road. These seminars should be arranged in those cities or countries where the majority of your followers exist.
You can charge them & can make money out of it.
Conclusion:
If you really want to learn how to make money while traveling & don't know where to start, I think this blog post is detailed enough with all the steps to follow.
Personally, I will start with the travel vlog videos & publish them on YouTube & other social media sites. At the same time, I will put exclusive footages & images to sell.

With the passage of time, I will be able to generate two income streams. Later on, I will work on the blog & so on.
Every mentioned idea is connected with each other which means if you start with the one step, you can jump to the second step easily.
I hope you will enjoy your travel journey while making money at the same time.
Disclosure: This article may contain a few affiliate links, which can provide compensation to me at no cost to you if you decide to purchase a paid plan. You can read our affiliate disclosure in our privacy policy. See why it matters, and how you can support us.